Product Information
Brand: Tostitos
Name: Tostitos Crispy Rounds Tortilla Chips
Origin: USA
Ingredients: Corn flour, vegetable oil, salt
Net Weight: 238.5g
Storage: Keep in a cool and dry place,once opened finish it as soon as possible
Expiration date: 6 months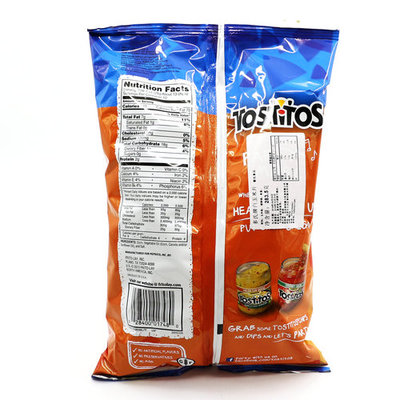 NUTRITION INFORMATION
Items Per Serving NRV%
Energy 588(kJ) 7%
Protein 2.0(g) 3%
Fat 7.0(g) 12%
Carbohydrate 18.0(g) 6%
Sodium 120(mg) 6%
Instructions:
Preheat oven to 400°F.

Grease pan with nonstick spray.

Slice cherry tomatoes in half and place on pan, cut side up.

In a food processor, pulse garlic cloves and Tostitos Crispy Rounds Tortilla Chips into a breadcrumb consistency.

Sprinkle crumb mixture evenly over tomatoes.

Roast tomatoes approximately 15 minutes or until soft and beginning to shrivel on edges.

Place mozzarella slices on a platter.

Pile roasted tomatoes over mozzarella and garnish with basil.

Can be made ahead of time and served warm or chilled.